Blue carbon ecosystem holds the power to restore climate balance and empower local communities. Carbonethics explains.
This year, Indonesia grasped a prestigious opportunity to host the G20 Summit 2022. G20 collaborated with the Ministry of National Development Planning (Bappenas) to hold the two-day G20 Development Ministerial Meeting Side Event, under the main theme of The Development of Indonesia's Blue Economy Roadmap in Belitung 7-8 September 2022.
RELEVANT SUSTAINABLE GOALS
The World Bank defines the blue economy as a 'sustainable use of ocean resources for economic growth, improved livelihoods, and jobs while preserving the health of the ocean ecosystem'. Approximately 70% of the Indonesian population live in coastal areas, which means the livelihood of millions of Indonesian population depends on the ocean.
"This is an opportunity to emphasize the enormous potential of Indonesia's marine economy which, if utilized optimally, will contribute significantly to the recovery and transformation of the nation's economy, especially to increase employment, productivity, and added value to the economy," Amalia Adininggar Widyasanti, The Ministry of National Development Planning/Bappenas' Deputy for Economic Affairs, said in Belitung on Tuesday (6/9).
CarbonEthics,
a grass-root organization founded by young Indonesian leaders, received the honor to showcase its work in the blue economy sector during this meeting. Representing CarbonEthics is Jessica Novia, Co-Founder and current Chief Marketing Officer.
"Climate change is the biggest humanitarian crisis of the modern world, we need to take immediate action now," Jessica said.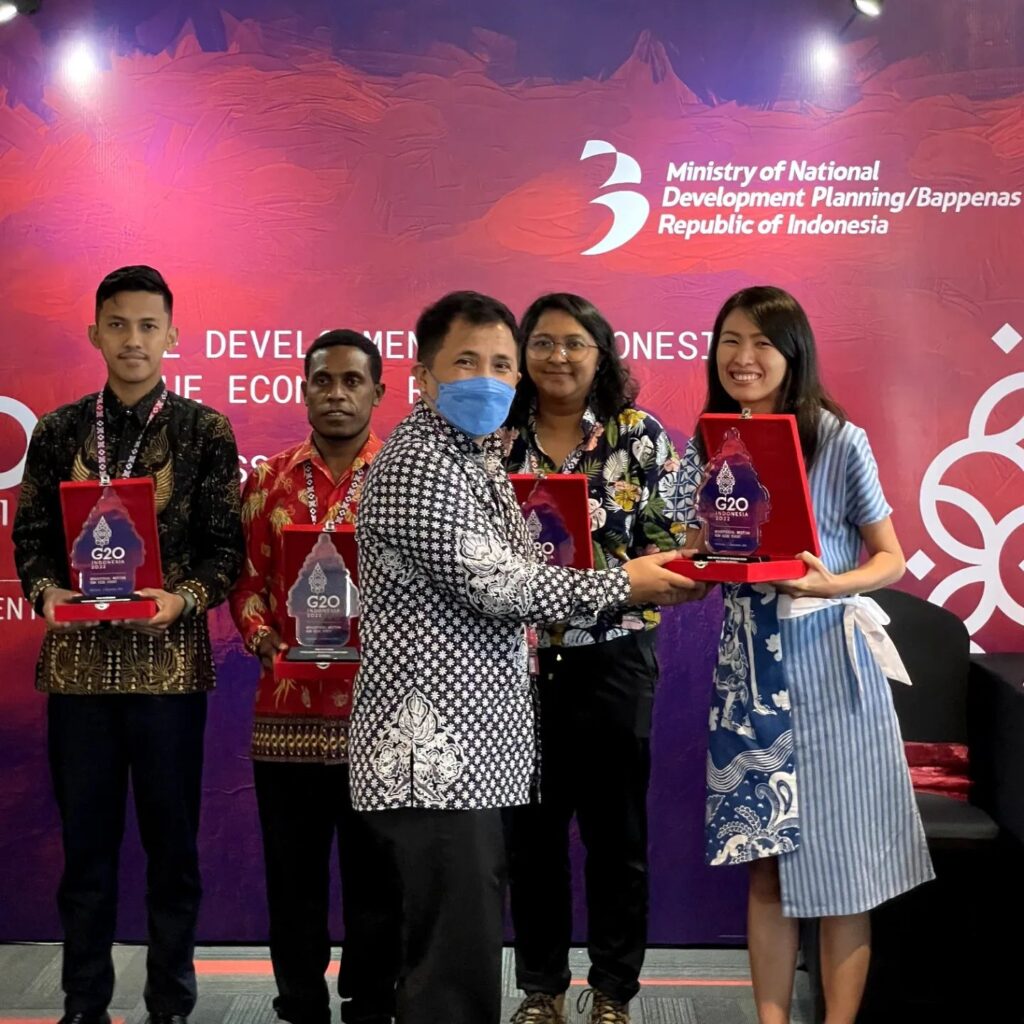 CarbonEthics aims to restore climate balance through nature-based solutions, with pioneers in the blue carbon ecosystem. Blue carbon ecosystem is an ecosystem in coastal and marine areas that absorbs carbon such as mangrove, seaweed, seagrass, coral.
"Indonesia has the highest blue carbon stock globally from our mangrove, but we also have one of the highest deforestation rates in the world, so it's important for us to protect and conserve them." Jessica said.
"The local community is at the heart of our conservation work. CarbonEthics implements a community-based conservation model to empower and develop coastal communities, so they can be at the forefront of protecting their coastal areas, ensuring a blue economy for the generations to come while restoring climate balance for the world," Jessica added.
CarbonEthics also encourages individuals and institutions to adopt a low-carbon lifestyle by reducing and neutralizing their carbon footprints. To conclude the presentation, Jessica encouraged the meeting participants to calculate their carbon emissions from attending this G20 meeting at CarbonEthics'
carbon calculator
.
"Be responsible with your carbon footprint by calculating it, then plant Blue Carbon Package through CarbonEthics or from another credible conservation organization. What is most important is to start being aware of our own carbon, try to reduce and neutralize our carbon footprint." Jessica said, wrapping up her presentation.
Founded in 2019, CarbonEthics has since achieved considerable milestones over their three years of impact journey besides being trusted as a collaborator in the G20 Summit. In 2021, Jessica took EU delegations in Indonesia on a mangrove conservation trip as part of their series of activities to conclude their EU Climate Diplomacy Week. CarbonEthics was also involved in other carbon-related discussions by several other Indonesian Ministries such as Jessica being invited by the Ministry of Environment & Forestry to speak during COP26 (United Nations Climate Change Conference) in Indonesia Pavillion.
Blue carbon ecosystem holds the power to restore climate balance and empower local communities. As of 2022, CarbonEthics has successfully planted more than 70,000 blue carbon seedlings, sequestered 5,316,785kg of CO2, and increased local farmers' income in Jakarta and Riau Islands by 22%.
Support local communities and take your climate action now. To educate, reduce, and sequester with CarbonEthics, visit
https://www.carbonethics.org/
Lead image courtesy of Carbonethics.
You may also be interested in :
A Degree of Concern : The Climate Crisis Is One of Environmental Justice