If you are a blue innovator, an owner of a blue sector startup or SME, come sign up for the Blue Finance Accelerator programme!
Ocean has become the blood on Indonesian veins for centuries. Over recent years, more in-depth talks and discussions about the Blue Economy are happening among Indonesian stakeholders involved in fisheries.
RELEVANT SUSTAINABLE GOALS 
The Blue Finance Accelerator (BFA)
The Blue Finance Accelerator is a program presented by the Asian Development Bank (ADB) and the United Nations Development Program (UNDP) in collaboration with the Coordinating Ministry for Maritime Affairs and Investment and Stellar Indonesia. This six-month accelerator program aims to provide capacity building and business and impact support mechanisms for startups and SMEs operating in the blue sector – sustainable fisheries, aquaculture, marine debris management, reduction of plastic pollution, climate change mitigation, or adaptation. The program will target a minimum of 12 SMEs/startups, comprising six startups and six SMEs, to undergo acceleration.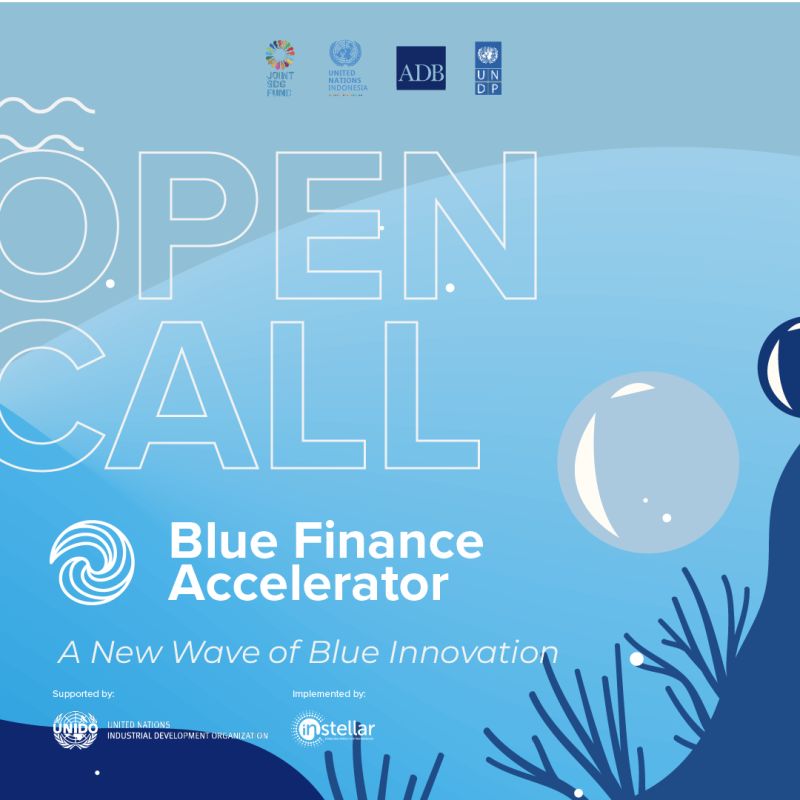 Selection Criterias
Participants selected for the accelerator program must have a solution or business that meets the following criteria:  
Women-Led Business 
The company has at least one woman in a leadership position. 
Troubleshooting in the Blue Sector 
• Waste management
• Marine and coastal protection and restoration of biodiversity and ecosystems
• Sustainable fisheries
• Disaster management and risk reduction
• Marine renewable energy
• Ecotourism
• Maritime Industry Decarbonization
Pre Seed Stage or Seed Level 
Proven with validated business models and appeals. 
Awareness of Climate Adaptation & Resilience
Reduction of carbon emissions, climate resilience, energy efficiency, etc.
Benefits Offered
Selected startups and MSMEs will benefit from the dedicated support a dedicated team and industry experts provide.
☑️ Appropriate Curriculum & Modules
Starting from business, innovation, impact measurement, gender lens, and blue-themed topics
☑️ Individual Mentoring & Consulting
The team of advisors & mentors will support the acceleration process to ensure business growth.
☑️ Wider Exposure & Network
Wider business connections with other stakeholders in the blue sector, as well as opportunities to join the UNDP and Instellar communities
☑️ Opportunity to Get Financing
Access to mixed financing schemes*
*Optimal financing scheme by combining several sources of funding or financing in one project, such as from the government budget, private parties, and donors (philanthropy).
Registration Timelines
December 14, 2022 – January 14, 2023.
Registration is open via email, social media, and websites for both startups and MSMEs.